I am a storyteller.
No matter the medium, my passion is telling stories in the most creative ways possible. I am a video producer. I am a director. I am an editor. I am a photographer. I am a novelist. I am a film crew member. I am a creative strategist. I've worked on Hollywood-sized projects and I've bled for pieces that would be happy to have even a single dollar. I've written 300-page novels and 3-second TV promos. Regardless of what I'm doing, I never forget it's all about the story.
Editing
I enjoy a little Premiere, AE, FCPX, Avid, and PS action every now and then. I'm fluent in most editing software. I even know the acronyms.
Who's behind the camera?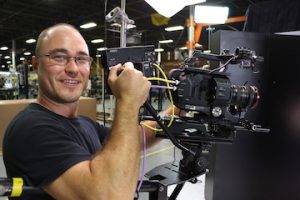 Over the past ten years, I've been busy crafting films of all types; from narrative to documentary to commercial. I thrive in the film, television, commercial and brand video worlds. My driving passion is to captivate audiences, and I excel when using my skills and style to promote brands, move audiences, and impact lives. My work has won over 50 industry awards, reached millions of viewers, and made hundreds of clients happy.
 I've served a wide variety of productions; from military contractors to universities, non-profits to Fortune-500 companies, Hollywood directors to agency executives. I am fiercely devoted to telling stories in engaging, powerful ways. I bring creativity, teamwork, and an unstoppable work ethic to every project. I am an artist. I am a storyteller. I am a creative. Let me show you what I can do.
Where Skill and Passion Coincide
I love my job. It's hard work, absolutely, but if it weren't my job it would be my hobby. That's how deep the passion goes. That's how addicted I am to crafting eye-popping images. Even when I'm not working, I'm constantly finding interesting ways to satisfy my creative impulses.
No one is one-dimensional. We are more than our jobs, our resumes, our social standings. We each have hidden eccentricities and funny little fixations, and that's what makes this world a polychromatic palette of wonder.
I am always looking for a way to get involved in yet another misadventure. If you have something heart-wrenching, dangerous, inspirational, artistic, or just downright fun, I am interested in helping you tell your story.
---

Awards
Although most of my work is not eligible for an Oscar, I have managed to grab a few awards in the past for my work. Here are a few of my favorites. Sometimes it's nice to be recognized for the hard work you do.